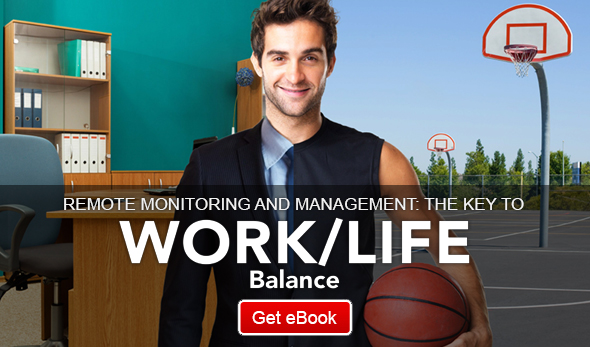 Can MSPs have a work/life balance?

It's no surprise that we are increasingly reliant on technology for every part of our lives. While technology is the backbone of how you function, constantly working long hours to maintain client networks can make you wonder – where does work end and 'your life' begin?

With a Remote Monitoring and Management (RMM) solution, you can manage your time and your clients' networks effectively and here's a few points to help:


| | |
| --- | --- |
| | Stay connected to your clients while automating tasks. Staying connected while completing your client's tasks can make your days seem as if they'll never end. Automating maintenance tasks are one of the ways that an RMM solution helps you to save time. |
| | |
| --- | --- |
| | Resolve issues before they become big problems – An RMM solution enables you to resolve clients' issues remotely. Time is saved on travelling to their sites and engineers can perform support from your office, instead of spending the time travelling to a client site as well. |
| | |
| --- | --- |
| | Better results for you and your business – Increased efficiency and reduced expenses are just some of the benefits that an RMM solution can deliver to your business. |

There's so much more that we can tell you about RMM solutions and you can download and read it in this ebook "RMM to Achieve work life balance"


Want to know more about how RMM can help you and your business? Watch the video on LabTech's RMM solution or visit our website for more information and contact our product specialists on 0118 9898 222.

Kind regards

The Blue Solutions Team
Your specialist software distributor

FOLLOW US




Contact Sales on 01189 898 222
Visit our website www.bluesolutions.co.uk
Scroll